Getting Ready for the World
The world needs young people who can willingly take leadership in fostering good relations among nations. The world needs young people who can find a path to cooperation through a thicket of different value systems. The world needs young people who can communicate effectively in more than one language in the fields of global studies, business, and humanitarian cooperation.
The International Course of Gyosei International School has as its mission to nurture and educate our students to become the globally-oriented young people the world requires. The Gyosei International Course has developed its own curriculum within the mandates of the Japanese Ministry of Education, Science, and Technology in order to accomplish our mission.
※

The official name of the school in Japanese is Gyosei Kokusai Gakuen. In English, this has been translated as Gyosei International School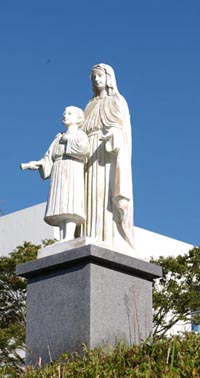 Welcome to Gyosei International School
To Students and Parents interested in Gyosei International School:
Gyosei International School was founded on the Catholic principles of love and respect for each individual. As we enter our 30th year, we continue to devote ourselves to teaching these principles to the young people who come to our school.
We try to instill a sense of mutual respect and friendship in our students that goes beyond national boundaries, culture, and race. We believe that instilling a love of truth in our students will prepare them to be able to reach deeper understandings and make correct judgments in their adult lives.
We endeavor to create a school environment that will be particularly welcoming to international students and Japanese students returning from life abroad.
While respecting each student's individuality and recognizing differences in scholastic ability, we endeavor to provide the highest standard of teaching and learning in our classes.
It is our great fortune to be involved in the task of educating young people to serve society in the future. It is a joy to see students who love growing and learning.
If you share these values with us, we would be happy to have you or your child join us at Gyosei International School.
Fr. Shigeru D. Tagawa
Founder and Head of School